On the Boards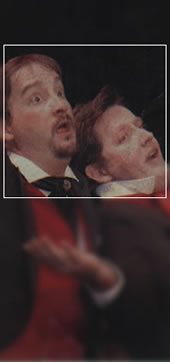 Celebrating over eight decades of excellence in the arts, the Silver Stage Players is dedicated to providing the finest theater, community service and educational opportunities to its members and the residents of northeastern Nevada. Its history is one of creativity and thought provoking theater. The company has challenged audiences, pushed the envelope of live theater and attracted the area's most talented actors, designers and directors since the 1930s.
The Writers' Spotlight Hits the Stage!
Silver Stage Players present an evening of one acts to showcase the talent of local playwrights. The Writers' Spotlight features the works of Savannah Flores, Curtis Moore, and Gail Rappa in a theatrical debut that celebrates what the Elko art community has to offer.
Be prepared for a heartfelt look at those left behind during World War II in Savannah Flores', A Blue Letter.
Explore the comedic machinations of demonic invention with, Behavioral Science: Case Studies on the Effect of Perspective-Shifting Stimuli in Human Environments (or Scientific Progress Goes AHHHHHH!) from Curtis Moore.
And, enjoy the mystical meeting between a fortune teller with her old lover that speaks to the creative battles within an artist's soul in Gail Rappa's Fortune's Seamstress.
It will be an evening of theater you will not want to miss! Show dates are July 19th, 20th, 21st, and 22nd at the Northeastern Nevada Museum. Tickets are $10 cash only at the door. Show starts at 7:00 pm.
bard [bärd]
Noun. A tribal poet-singer skilled in composing and reciting verses on heroes and their deeds. A composer, singer, or declaimer of epic or heroic verse. Traditionally one reciting epics and associated with a particular oral tradition. Synonyms: poet · versifier · verse-maker · rhymester · rhymer · sonneteer · lyricist · lyrist · Shakespeare.
#SILVERSTAGESTRONG