Community Service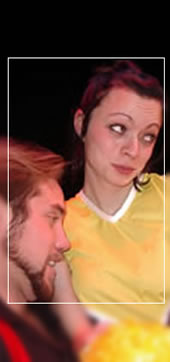 The Silver Stage Players is truly a community theater group. The company has always made a point to better our city through community service, advocacy, activism, arts education, and outreach.
One Community - One Theater
The company has been involved with such projects as the American Cancer Society's 24 Hour Relay for Life, the Thomas Scott Foundation's Memorial Golf Tournament, The F.I.S.H. (Friends in Service Helping) Haunted House, Bright Path Renaissance Dinner, providing entertainment for senior citizens at Mountain View Care Center, the Elko Junior Chamber of Commerce Senior Citizen Monthly Birthday Party project, Spring Creek Elementary School, Ruby Mountain Riders for the Handicapped, The Boys and Girls Club of Elko, the Elko Festival of Trees, the Elko County School District, local region Girl and Boy Scouts of America, the City of Elko's Snowflake Festival, the City of Elko's Celebrate Elko Days, Friends of the Eureka Opera House, Local chapters of 4-H, and The Eureka Museum Foundation. The company also receives donations and sponsorships from various organizations, businesses, and individuals from the community. We would like to take a moment to thank our sponsors dearly for their continued support of arts in Elko and SSP!
SSP Offers Free Costuming and Sewing Workshops!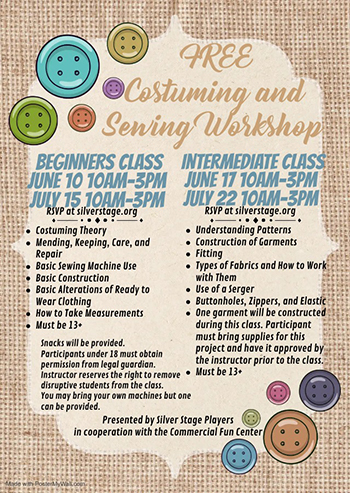 Join local artist and costumer Kelsey Rogers as she conducts beginner and intermediate classes in costuming and sewing. Topics will include theory, patterns, construction, taking measurements, fittings, and many others!
Beginner classes will take place from 10 AM until 3 PM on June 10 and July 15 while intermediate classes will take place on June 17 and July 22 during the same times. All classes will be conducted at the Commercial Fun Center. Must be 13 years or older to attend. Participants under 18 must obtain permission from their legal guardian.
Please use the Reservation Google Form to RSVP.
For additional questions, please email us at SSP Gmail Address.
These workshops are presented free of charge and to the public by Silver Stage Players in cooperation with the Commercial Fun Center.
SSP Hosts Theater Foundations: Playwrights & Actors Workshops
Silver Stage Players is happy to announce, Theater Foundations, a series of workshops aimed at honing the creative skill and talents of Elko's performance art community. Participants will practice and explore various theatrical disciplines that are then combined into a final showcase that demonstrates their newly acquired skills. The first theater Foundations workshop will center on playwriting and acting and is supported, in part, by the Nevada Arts Council, a state agency.
The playwriting class is limited, but the acting portion is open to all, age 16 and up. Theater Foundations: Playwrights & Actors will take place November 18 and 19. The playwright class will be from 2 - 9 PM on the 18th and continue from 9 AM until 4 PM the 19th at the Elko Area Chamber of Commerce. Placement is limited so please contact SSP for further details. The acting workshop will start November 19th at 10 AM at the Northeastern Nevada Museum. At 1 PM on the 19th, actors will provide dramatic readings of the scenes written during the playwright class!
SSP resident dramaturge, Dr. Josh Webster, will lead the class on playwriting basics. Class topics will include how to structure a play's narrative arc, dynamics of a scene, and dialogue. Dr. Webster teaches English at Great Basin College and is also the proud recipient of the Nevada Arts Council's Artists Fellowship Grant. His theatrical work has been performed locally during the annual Poe & Pints event, and his full length play, Incredible Stories , was debuted in 2019.
Community actors Hilary Griffin and Derek Burwell will lead acting classes on discovery and interpretation. Combining powerful, creative choices with a finer understanding of line work and expression, provide useful tools for any actor who is looking at refining their craft. Hilary is a graduate of UNR's theater program, the Second City Training Center Conservatory, and Chicago Conservatory with an emphasis on sketch comedy and improv. Derek has been active in Elko's community theater for the past 22 years.
For more information, please contact SSP at (775) 397-3256 or by e-mail at elkosilverstage@gmail.com.
Silver Stage Hosts Summer Series of Art Free to the Public
Join Silver Stage Players for Summer Series 2022, an arts series featuring various arts disciplines all in one location. The event will be hosted by the Northeastern Nevada Museum August 4-6 beginning at 6 PM. Doors open at 5:30 PM The evening of art includes, the performance of Alex Acuff's short play, First Impressions; a performance of, Last of the Red Hot Lovers by Neil Simon; interactive improvisation; poetry readings; exploring photography workshop; a strongman exhibition and more. The event is free to the public but donations will be gratefully accepted. Seats for events in the museum's theater are open to the first 90 guests. "Last of the Red Hot Lovers" is presented by arrangement with Concord Theatricals on behalf of Samuel French, Inc., www.concordtheatricals.com.
#SILVERSTAGESTRONG