News
The Writers' Spotlight Hits the Stage!
Silver Stage Players present an evening of one acts to showcase the talent of local playwrights. The Writers' Spotlight features the works of Savannah Flores, Curtis Moore, and Gail Rappa in a theatrical debut that celebrates what the Elko art community has to offer.
Be prepared for a heartfelt look at those left behind during World War II in Savannah Flores', A Blue Letter.
Explore the comedic machinations of demonic invention with, Behavioral Science: Case Studies on the Effect of Perspective-Shifting Stimuli in Human Environments (or Scientific Progress Goes AHHHHHH!) from Curtis Moore.
And, enjoy the mystical meeting between a fortune teller with her old lover that speaks to the creative battles within an artist's soul in Gail Rappa's Fortune's Seamstress.
It will be an evening of theater you will not want to miss! Show dates are July 19th, 20th, 21st, and 22nd at the Northeastern Nevada Museum. Tickets are $10 cash only at the door. Show starts at 7:00 pm.
SSP Offers Free Costuming and Sewing Workshops!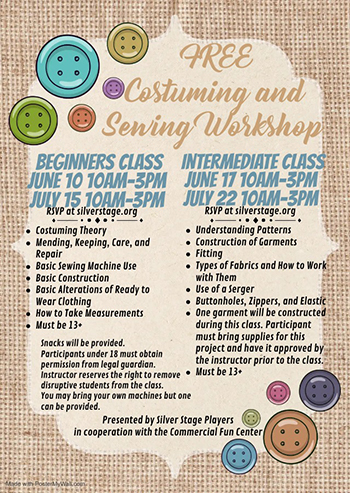 Join local artist and costumer Kelsey Rogers as she conducts beginner and intermediate classes in costuming and sewing.
Topics will include theory, patterns, construction, taking measurements, fittings, and many others!
Beginner classes will take place from 10 AM until 3 PM on June 10 and July 15 while intermediate classes will take place on June 17 and July 22 during the same times. All classes will be conducted at the Commercial Fun Center.
Must be 13 years or older to attend. Participants under 18 must obtain permission from their legal guardian.
Please use the Reservation Google Form to RSVP.
For additional questions, please email us at SSP Gmail Address.
These workshops are presented free of charge and to the public by Silver Stage Players in cooperation with the Commercial Fun Center.
Silver Stage Players is Holding Auditions for Poe & Pints!
Auditions for Elko's hottest ticket and event of the year, Poe & Pints, will be held from 6-8 PM at the Christian Center of Elko July 27-28. A two-minute prepared audition piece is encouraged. Cold readings will be made available.
If you have wanted to try acting, tech, or just see what local theater is all about, now is your chance!
For further information please email email us at SSP Gmail Address.
Meet Us at the Faire
Join SSP as we hold court at Camp Lamoille, in the beautiful Ruby Mountains, for Rotary Club of Elko's Robin Hood Renaissance Faire, September 16 & 17!
It's Our 10th Anniversary!
Celebrating the 10th Anniversary of Poe & Pints. Six nights of gothic stories and a curated selection of craft beers. October 5-7 and 12-14, 7 PM at DLC!
Meet SSP's Resident Dramaturge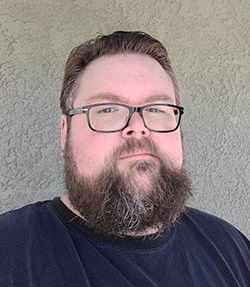 Josh Webster is a playwright, fiction writer and professor currently living in Pahrump, NV. His work has appeared in long and short form on various stages and he is a 2022 recipient of a Nevada Arts Council Artist Fellowship in Literary Arts.
He received an M.A. in English with an emphasis in creative writing from Wayne State University and a PhD in English with an emphasis in creative writing from The Center for Writers at The University of Southern Mississippi.
After serving as a lecturer at North Dakota State University in Fargo, he has since worked as an English Professor at Great Basin College in first Elko and then Pahrump where he teaches composition, creative writing, literature and film courses.
One Community – One Theater!
SSP Thanks all Arts Patrons
Throughout the week of Poe & Pints' opening, we will be thanking our generous patrons who believe in what we do and continue to support us. Please join us in thanking all these community members and businesses for their continued support and advocacy for the arts. Your patronage encourages the arts and fuels our inspiration!
Ask the Cosmic Toad
Silver Stage Players has a new companion for public appearances and he has opinions on just about everything!
Ask the Cosmic Toad your question. Ask something personal, the bigger questions of the universe or just what you should have for lunch. It's all up to YOU!
For more information about the Silver Stage Players, please call (775) 934-3721, visit us on Facebook or on our website!
#SILVERSTAGESTRONG