News
SSP Offers Free Costuming and Sewing Workshops!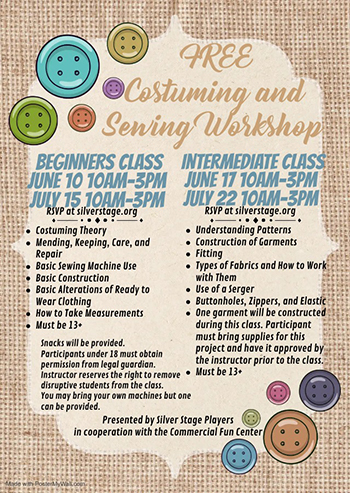 Join local artist and costumer Kelsey Rogers as she conducts beginner and intermediate classes in costuming and sewing. Topics will include theory, patterns, construction, taking measurements, fittings, and many others!
Beginner classes will take place from 10 AM until 3 PM on June 10 and July 15 while intermediate classes will take place on June 17 and July 22 during the same times. All classes will be conducted at the Commercial Fun Center. Must be 13 years or older to attend. Participants under 18 must obtain permission from their legal guardian.
Please use the Reservation Google Form to RSVP.
For additional questions, please email us at SSP Gmail Address.
These workshops are presented free of charge and to the public by Silver Stage Players in cooperation with the Commercial Fun Center.
Players Present Alice in Wonderland Themed Whiskey Tasting Adventure
Join the Silver Stage Players and Luciano's Restaurant as we highlight unique whiskies from distilleries all around the country! Down the Rabbit Hole: A Whiskey Tasting Adventure features a flight of six American whiskies paired with specially crafted fare from Luciano's culinary arts expert, Luc Gerber.
This unique event is offered in an intimate and limited seating fashion November 18 and 19 beginning at 6 PM at Luciano's restaurant. Doors open at 5:30 PM. The evening of whiskey tasting and eats includes a free tasting glass, raffle/auction, themed characters, and other surprises. Tickets are available at the Elko Chamber of Commerce and online, in limited numbers, at silverstageplayers.square.site. Tickets are $80 per person.
Luciano's Chef and Owner, Luc Gerber, studied the culinary arts in Paris, France. He moved to San Francisco in 1999 to work under some very talented chefs, where he honed his skills in the kitchen but dreamed of one day owning his own restaurant. He opened his own place, Luciano's, where he provides some of the freshest ingredients that he can find! Come in and enjoy!
Celebrating over eight decades of excellence in the arts, the Silver Stage Players is dedicated to providing the finest theater, community service, and educational opportunities to its members and the residents of northeastern Nevada. The local Elko theater company is committed to creating the most complete, innovative, engaging, and contemplative theater experience possible.
Over its eight-decade history, SSP has produced hundreds of productions, many of which were firsts for northern Nevada and the company continues to produce unique and inspiring drama today. Offerings have included Bard in the Yard, CLUE, Godspell, Nunsense, The Legend of Sleepy Hollow, A Christmas Carol, War of the Worlds, Scrooge Makes Up, Lysistrata, Greater Tuna, Joseph and the Amazing Technicolor Dreamcoat, Poe & Pints 2021, The Wizard of Oz, The Man of La Mancha, The Last U.S. Mail Stage Robbery, Much Ado About Nothing among many others.
Alice's Adventures in Wonderland was written in 1865 by English novelist, Lewis Carroll. Telling the story of a young girl named Alice who falls down a rabbit hole into a fantasy realm of creatures, it became one of the most popular works of English-language fiction. It was notably illustrated by British artist John Tenniel. Lewis Carroll was born in 1832 in Cheshire, England. Ever the Renaissance man, Carroll was also a logician, mathematician, and photographer. Even with his many disciplines, he is still best remembered for Alice's Adventures in Wonderland and its sequel, Through the Looking-Glass written in 1871. Lewis Carroll passed away on January 14, 1898, in Surrey.
Click to visit SSP Events on Facebook.
One Community – One Theater!
SSP Hosts Theater Foundations: Playwrights & Actors Workshops
Silver Stage Players is happy to announce, Theater Foundations, a series of workshops aimed at honing the creative skill and talents of Elko's performance art community. Participants will practice and explore various theatrical disciplines that are then combined into a final showcase that demonstrates their newly acquired skills. The first theater Foundations workshop will center on playwriting and acting and is supported, in part, by the Nevada Arts Council, a state agency.
The playwriting class is limited, but the acting portion is open to all, age 16 and up. Theater Foundations: Playwrights & Actors will take place November 18 and 19. The playwright class will be from 2 - 9 PM on the 18th and continue from 9 AM until 4 PM the 19th at the Elko Area Chamber of Commerce. Placement is limited so please contact SSP for further details. The acting workshop will start November 19th at 10 AM at the Northeastern Nevada Museum. At 1 PM on the 19th, actors will provide dramatic readings of the scenes written during the playwright class!
SSP resident dramaturge, Dr. Josh Webster, will lead the class on playwriting basics. Class topics will include how to structure a play's narrative arc, dynamics of a scene, and dialogue. Dr. Webster teaches English at Great Basin College and is also the proud recipient of the Nevada Arts Council's Artists Fellowship Grant. His theatrical work has been performed locally during the annual Poe & Pints event, and his full length play, Incredible Stories , was debuted in 2019.
Community actors Hilary Griffin and Derek Burwell will lead acting classes on discovery and interpretation. Combining powerful, creative choices with a finer understanding of line work and expression, provide useful tools for any actor who is looking at refining their craft. Hilary is a graduate of UNR's theater program, the Second City Training Center Conservatory, and Chicago Conservatory with an emphasis on sketch comedy and improv. Derek has been active in Elko's community theater for the past 22 years.
For more information, please contact SSP at (775) 397-3256 or by e-mail at elkosilverstage@gmail.com.
Poe & Pints Set to Thrill and Chill Audiences this Fall
Poe & Pints has returned to haunt us with tales of the macabre and tantalizing again for a few evenings this Fall. The combination of Edgar Allan Poe and other writer's works combined with a curated beer selection makes this event a unique experience for the community of Elko.
Art and culture are things that must be nurtured in our community. The benefits of having a strong sense of the humanities are critical to being able to navigate the future with our humanity intact. Art reflects all aspects of life, and Poe & Pints allows the actors and audience members to safely experience, contemplate, and grow through contact with darker themes and stories. Toying with wish fulfillment, vengeance, and the fear of the unknown help to provide context for such things that may be lurking in any of us. We are only human after all.
Showdates are September 29, 30 and October 1, 6, 7, and 8 at the Duncan LittleCreek Gallery. Curtain is at 7 PM with the house being opening beginng at 6:30 PM. Ticket prices are $35 per person. Tickets will be going on sale soon!
Directing Poe & Pints for the second year is Mr. Derek Burwell. Derek has had the pleasure of working with various community theater projects for the last 20 years. Highlighted roles have been "Mercutio" in Romeo and Juliet, "Leslie" in Love, Sex, and the IRS, "Puck" in Bard in the Yard, "Agador" in The Birdcage, and The Rocky Horror Picture Show as "Frankenfurter".
Derek has been on the creative ground-floor of several local projects including Bard in the Yard, and Poe & Pints, and has been privileged to work with such organizations as Silver Stage Players, the GBC Theatre, and Ghost Light Productions.
He appreciates theater for the opportunity to examine this great experiment of life from different angles, and best of all gets to share what he finds with others. When not enjoying a romp through the lands of make believe, Derek tortures dirt for a living at a local mine.
He is deeply grateful for the cast and patrons' continued belief in the Poe & Pints Project, and for the trust Frank L. Sawyer has shown by giving him care of the tremendous investment of work, talent, and vision that Frank has poured into the project over the last seven years.
SSP Thanks all Arts Patrons
Throughout the week of Poe & Pints' opening, we will be thanking our generous patrons who believe in what we do and continue to support us. Please join us in thanking all these community members and businesses for their continued support and advocacy for the arts. Your patronage encourages the arts and fuels our inspiration!
Meet SSP's Resident Dramaturge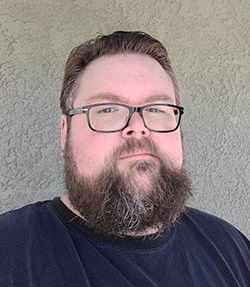 Josh Webster is a playwright, fiction writer and professor currently living in Pahrump, NV. His work has appeared in long and short form on various stages and he is a 2022 recipient of a Nevada Arts Council Artist Fellowship in Literary Arts.
He received an M.A. in English with an emphasis in creative writing from Wayne State University and a PhD in English with an emphasis in creative writing from The Center for Writers at The University of Southern Mississippi.
After serving as a lecturer at North Dakota State University in Fargo, he has since worked as an English Professor at Great Basin College in first Elko and then Pahrump where he teaches composition, creative writing, literature and film courses.
Ask the Cosmic Toad
Silver Stage Players has a new companion for public appearances and he has opinions on just about everything!
Ask the Cosmic Toad your question. Ask something personal, the bigger questions of the universe or just what you should have for lunch. It's all up to YOU!
For more information about the Silver Stage Players, please call (775) 934-3721, visit us on Facebook or on our website!
#SILVERSTAGESTRONG